2016 Vietnam Wall
Vietnam Memorial Traveling Wall Experience
Be sure to check back for 2017 updates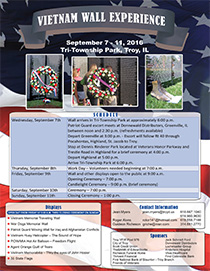 Troy VFW Post 976 and the City of Troy are finalizing plans to bring the Vietnam Memorial Traveling Wall to Troy in September 2016. The event will be held in Tri-Township Park and will also include participation in the Bradley Smith 5K Run and the Chamber's Fall Fest onSeptember 10th . Ceremonies honoring our Vietnam Veterans will be held on Friday, September 9th thru Sunday, September 11th.
View Flyer
View Facebook Page
Sept. 7, Patriot Guard Escort the Wall from Greenville to Troy Park
Sept. 8, placement of wall for viewing and special services throughout the weekend
Sept. 9-10-11, Opening Ceremony, view wall, John Hoosier "through the Eye ERA", Huey Helicopter, POW-MIA Freedom Flight Hot Air Balloons, Agent Orange Quilt of Tears display, Vietnam vintage vehicles, K-9 Service Dog Wall.