Tri-township Park District Adventure Night
Our 2018 Adventure Night will be held on October 20th from 5pm - 8pm. Please check back for further details as the event date approaches. Details below are from 2017 and are left on the site to give you an idea what to expect in 2018!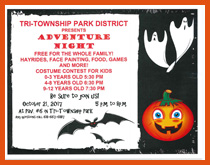 Saturday, October 21, 2017 from 5-8 PM
Tri-Township Park, Pavilion #6
This is a FREE Event for the WHOLE Family!
Food, Drinks, Candy, A Costume Contest, Hayrides, Facepainting, Games, and More!
Call the park office at (618) 667-6887 for more information or if you are interested in helping.
See you in the park!
View
Flyer
Come Join Us In The Park For
• Hayrides
• Face Painting
• Live Animals
• Story Trials
• Hot Cocoa
• Campfire
• Hot Dogs
• Sodas
• Guess the weight of the Pumpkin