Memorials
There are several items currently offered as memorial items: Memorial Benches, Swings or you can have a tree planted in memory of a loved one. The benches and the swings can be engraved and you have the option of ordering a name plaque for the memorial tree for an additional cost.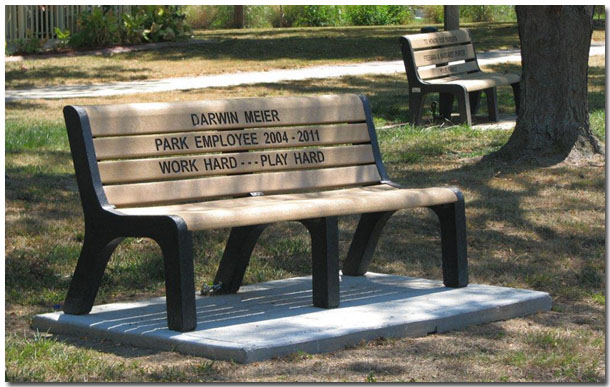 This lovely memorial bench is available through the Park District. It is 6 ft. long and made of recycled materials so it never needs painting. It is a warm wood color with black legs and black lettering. Benches are available at a cost of $500 plus $2 per letter for engraving. Three boards are available for engraving with up to 25 letters or characters per line. Spaces do not count. The price of $500 includes the bench, freight, assembly, and a concrete pad. The bench is secured to the conccrete pad to protect against theft. Delievery of the benches is 6-8 weeks.
If you have driven through our park, you've notice that the benches are placed around the lake, gazebo, walking trails, and play grounds, so you can sit and enjoy the park!
Also we have swings available for $1,500 plus engraving costs. These too can be placed around the Park.
There is a list of the types of trees that are available at the park office, prices of the trees range from $400.00 to $600.00 with a one year guarantee. Memorial plaque is an additional cost.
Please call the Park Office at 618-667-6887 for more information.