Activity Center
Tri-Township Park Activity Center

Fridays 7pm-10pm
Saturdays 12pm-4pm
Sundays 1-5pm
NO OPEN SKATE ON SATURDAY, NOVEMBER 17TH!

Birthday Parties booked during regular skate hours. View Party Information
For Private Parties Call for information.
NEW - Saturday Night Hall Rental!! Call for information
September Saver Sundays!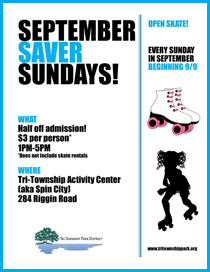 Every Sunday in September beginning 9/9/18
Open Skate!
What: Half off admission! $3/person* 1-5pm
*Does not include skate rentals

Where: Tri-Township Activity Center (Formerly Spin City)
284 Riggin Road, Troy IL

View the Flyer




Back to School Skate Party!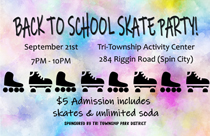 September 21st 7-10pm
Tri-Township Activity Center
284 Riggin Road, Troy IL (Formerly Spin City)
$5 admission includes skates & unlimited soda
Sponsored by Tri-Township Park District
View the Flyer