Easter Egg Hunt
Update: The Easter Egg Hunt on Saturday, March 24th will now be held at Spin City! The hunt will be from 9-11 am and the divisions will be held at these times: 0-2 year olds: 9 am promptly; 3-4 year olds: 9:30 am; 5-6 year olds: 10 am; 7 year olds and up: 10:15 am. All raffle winners will be picked on Monday the 26th.
Scavenger Hunt in Tri-Township Park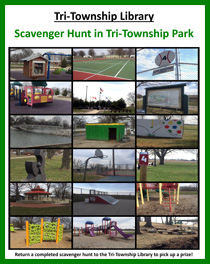 Easter Egg Hunt 2015
In 2015, everyone enjoyed the Easter Bunny, Face Painter, Bounce Houses, Fabulous Balloon Artist, plus Thousands of Easter Eggs!