Adventure Night
Tri-Township Park District Adventure Night
Check Back for the 2017 Update!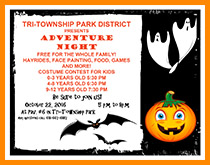 Saturday, October 22, 2016 from 5-8 PM
Tri-Township Park, Pavilion #6
This is a FREE Event for the WHOLE Family!
Food, Drinks, Candy, A Costume Contest, Hayrides, Facepainting, A Balloon Artist, Games, A Bounce House and More!
We are still looking for more vendors to either set up a game with prizes or just hand out candy for kids.
Call the park office at (618) 667-6887 for more information or if you are interested in helping.
See you in the park!
View
Flyer
Come Join Us In The Park For
• Hayrides
• Face Painting
• Live Animals
• Story Trials
• Hot Cocoa
• Campfire
• Hot Dogs
• Sodas
• Guess the weight of the Pumpkin